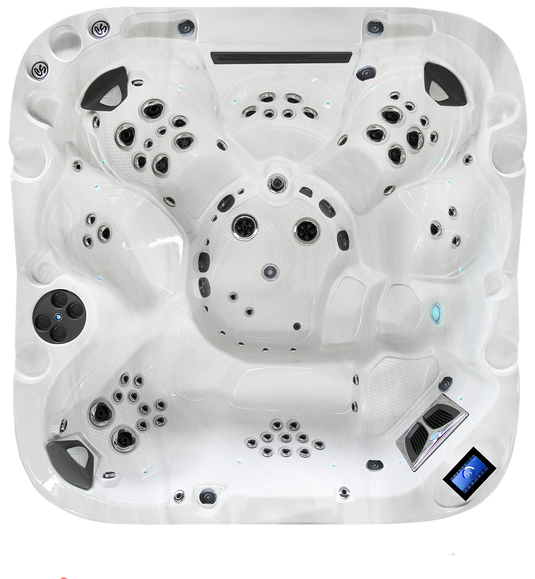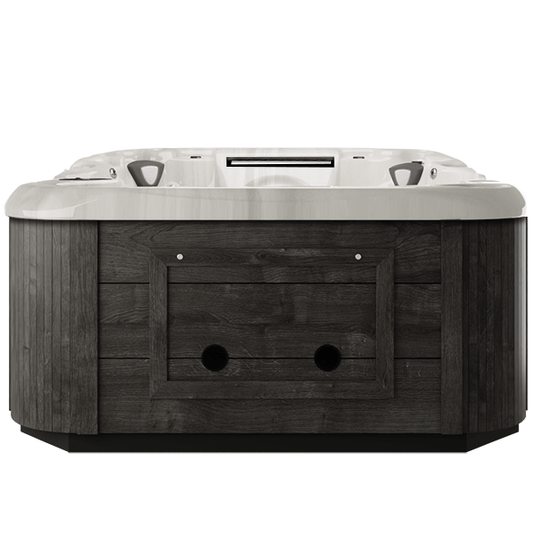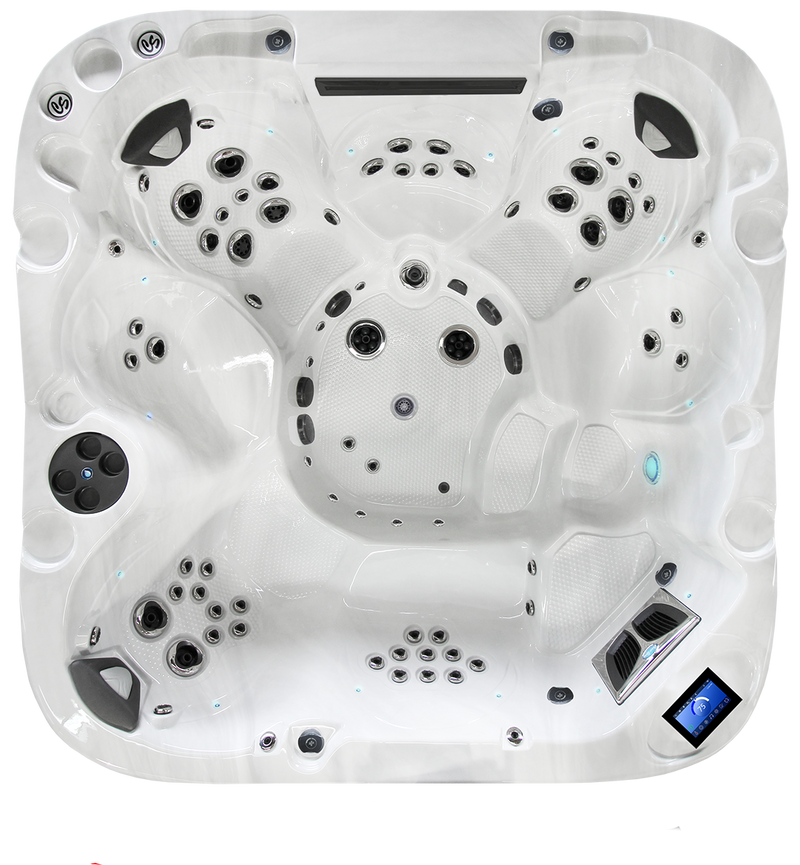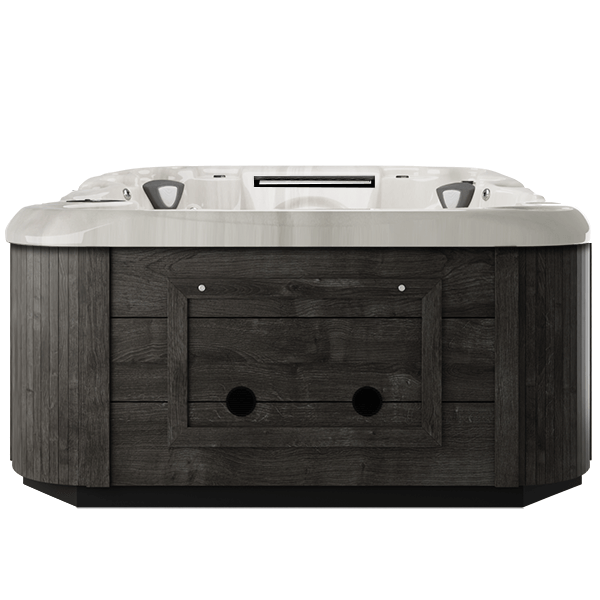 *Energy consumption may vary significantly with ambient environmental temperature, frequency of use, filtration settings and the use of other hot tub features including temperature controls, circulating jets, and waterfalls. Test procedures and data collection is based on the test method for Portable Electric Spas stipulated in Section 1604, Title 20, California Code of Regulations, amended on December 3, 2008. CEC testing parameters require that all units listed are tested in a third party or CEC approved laboratory, under a controlled environment with an ambient air temperature of 60(15.6 ℃)±313℉ and hot tub water temperature of 102(38.9 ℃)±213℉, with the hot tub cover on for a continuous 72 hours, and in compliance with ANSI/APSP/ICC-14 2011 and IAPMO filtration and water turnover requirements.
| Warranty Type | Description | Standard Warranty | Extended Warranty |
| --- | --- | --- | --- |
| SHELL | CSMI warrants against water loss (through the spa shell) due to workmanship or manufacturing defects for the lifetime of the spa shell. | Lifetime | Lifetime |
| ACRYLIC SURFACE | CSMI warrants the interior surface material of the spa shell against blistering or delaminating for a period of five years. (See Surface Warranty in the Exclusions portion of this document). | 5 Years | 5 Years |
| HEATER | CSMI warrants, the heater, as originally installed, against defects in material and workmanship, for a period of two years. | 2 Years | 5 Years |
| PUMP | CSMI warrants the pump(s) due to motor failure or malfunction due to defects in material and workmanship for a period of two years. Pump shaft seal is covered for 1 year against defect in material and workmanship. The warranty includes pump seal (part only) necessary for repair. Damage resulting from a neglected leaking shaft seal is not covered under warranty. This includes but is not limited to bearing seizure, end bell failure, start switch failure, impeller failure and capacitor failure. It is the responsibility of the customer to report shaft seal failure before further damage can occur. | 2 Years | 5 Years |
| CONTROL | CSMI warrants the control system (pack and keypad) against malfunction due to defects in material and workmanship for a period of two years | 2 Years | 5 Years |
| LEAK | CSMI warrants the factory installed plumbing against water loss due to defects in material and workmanship for a period of two years, with conditional exclusions. This warranty specifically covers leaks from the jet fittings, drain fittings, internal plumbing, filter canister, mechanical float water gauge and light lens. | 2 Years | 5 Years |
| LED LIGHTING | CSMI warrants the optional LED lighting to be free from defects in material and workmanship for a period of two years. | 2 Years | 2 Years |
| SYNTHETIC CABINET | CSMI warrants the Synthetic cabinet to be free from defects in material and workmanship for a period of two years. This warranty specifically covers the cabinet's structural integrity (excluding surface stain or color). The cosmetic finish is warranted to be free from defects at the time of initial delivery to the original consumer purchaser. Fading and weathering of the surface will naturally occur over time and are not considered warrantable defects. Due to thermal expansion properties of Polyethylene material, contraction and expansion in synthetic cladding can occur over varying temperatures. However, under no circumstances either of these conditions can be construed as warping from its original form. Bowing of the spa cabinets due to temperature variations and extreme conditions are considered normal and are not covered under the spa limited warranty. Normal wear and tear and discoloration are not considered manufacturing defects and are not warrantable. | 2 Years | 5 Years |
| FRAME | CSMI warrants the spa structure frame to be free from defects in material and workmanship for a period of two years. | 2 Years | 5 Years |
| PURIFICATION SYSTEM | CSMI warrants the purification system to be free from defects in material and workmanship for a period of two years. This covers the O3 One Advanced system, and UV Sanitizer. | 2 Year | 2 Years |
| ENTERTAINMENT SYSTEM | CSMI warrants the factory installed entertainment system (power supply, speakers, Wi-Fi) to be free from defects in material and workmanship for a period of two years. This warranty specifically excludes water damage. | 2 Years | 2 Years |
| OTHER COMPONENTS | Jet inserts, filter lid & lock ring are warranted against malfunction due to defects in material and workmanship for a period of two years (these parts are a part replacement only/no labor coverage). Failure to maintain water chemistry and/ or neglect in cleaning the stainless-steel components could escalate the chemical attack on the stainless. Due to environmental conditions out of our control, we are unable to warranty discolorations or corrosion on stainless steel parts. The following items are not included in this limited warranty but are warranted to be free from defects in material or workmanship at the time of delivery to the original consumer purchaser from the dealer: Filter cartridge, dirty filters, loose unions, pinched or misaligned gaskets, closed water valves, closed jets, fuses, expired light bulbs, disconnected power cords, 24" waterfall, & sacrificial anode | 2 Years | 2 Years |
Coast Spas hot tubs are a popular choice for those looking to enhance their outdoor living experience. These high-quality hot tubs are designed with advanced technology and craftsmanship, providing users with a luxurious and comfortable spa experience. Coast Spas offers a range of models, each with unique features and customizable options to fit any lifestyle and budget. With innovative hydrotherapy systems, energy-efficient components, and durable materials, Coast Spas hot tubs are built to last and provide years of enjoyment. Whether you're looking to unwind after a long day or entertain friends and family, a Coast Spas hot tub is the perfect addition to any backyard oasis.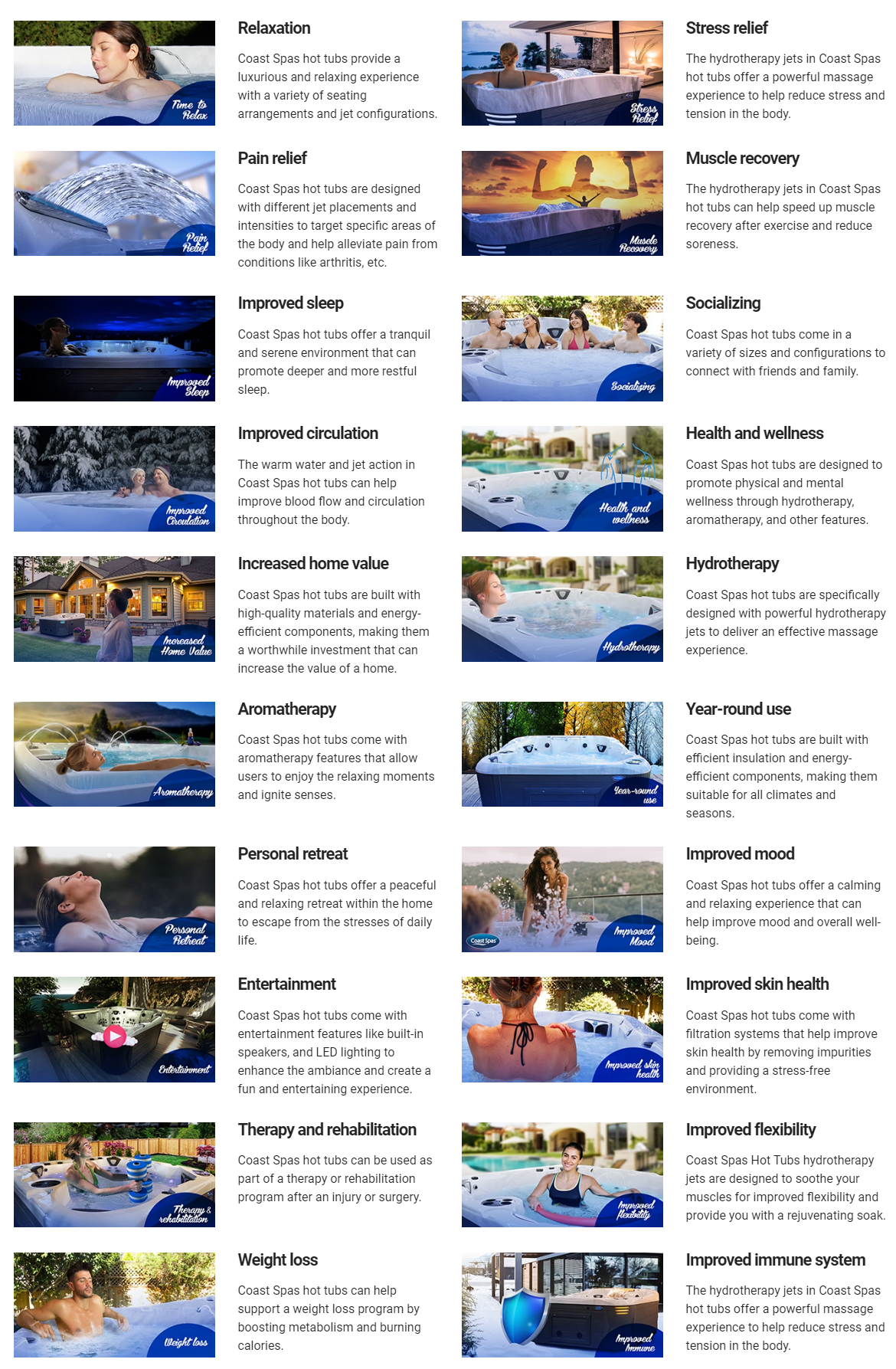 Coast Spas Standard Covers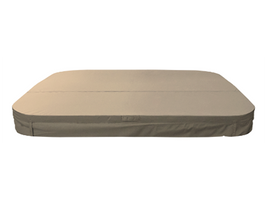 5" Taupe WeatherShield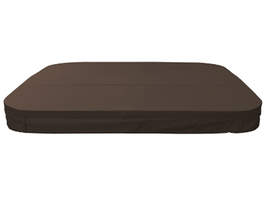 5" Mahogany WeatherShield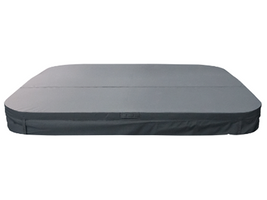 5" Grey WeatherShield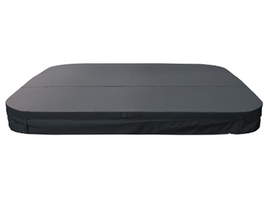 5" Black WeatherShield
Coast Spas Steps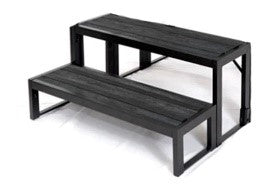 2 Steps All-Weather Woodgrain
Coast Spas Cover Lifter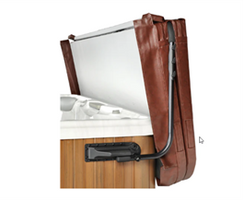 Cover Mate 1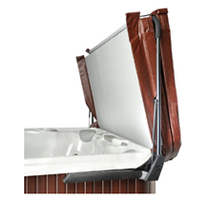 Cover Mate 3
Luxury Apex Curve Bench - 65 Jets Features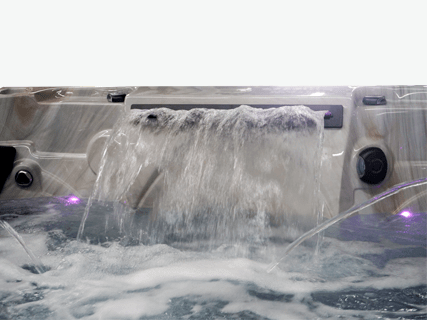 24" Waterfall
At one time waterfalls were just to add soothing sounds and a relaxing ambiance to your Spa. Coast Spas® changes that by putting you into the waterfall, giving you a feeling of pure relaxation and complete tranquility. This continuous blade of water measures a full two feet across and is fully lit with vibrant LED Lights*. Fully adjustable, the 24" waterblade can cascade into the middle of your Hot Tub or softly drop inches from its source (and everything in between). The Coast Spas exclusive 24" waterfall is the largest available on any Hot Tub. Enjoyment is guaranteed.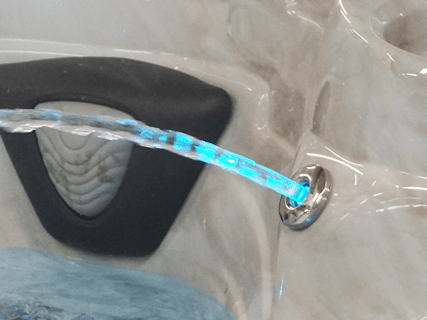 Streaming Laminar Ropes
Provides the soothing sound of running water. Adds a stunning look to the profile of the Spa.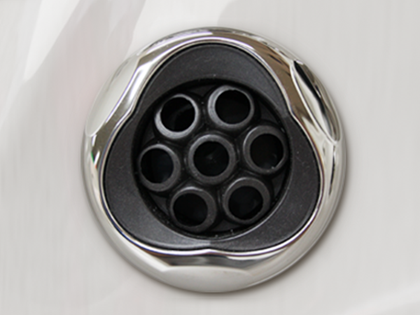 Trillium Stainless Steel Massage Jets
Our Luxury Trillium Jets. Luxury Trillium Jets are made to deliver the ultimate hydrotherapy experience. These jets are designed to look incredible against the spa acrylic with smooth lines, multiple textures all wrapped within a stylish stainless steel housing.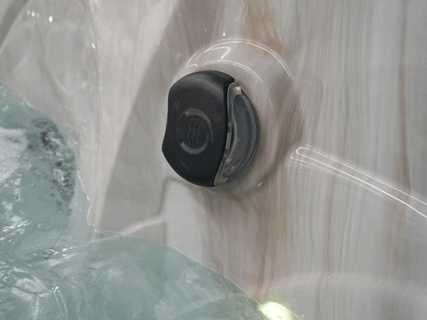 Extreme XL Water Diverters
Extreme XL Water Diverters . Divert the flow of water to specific seats in your Spa. LED lit (with and installed lighting package) and easy to both grip and turn with it's unique large shape.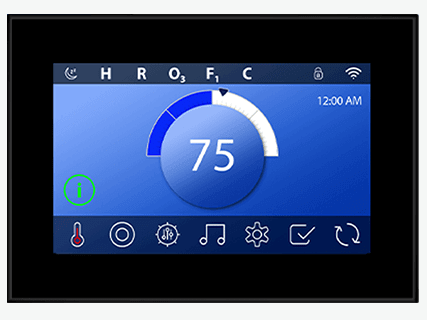 XL Touchscreen Controls
Color Touch Screen Controls. This easy-to-use control panel features a large multilingual color LCD interface with intuitive icons and animations. There are no buttons to press, just touch the feature you want to control on the touch sensitive screen.Easily program filtration cycles and set your temperature. Your control panel will also warn you of any issues. If the Hot Tub is too hot or the heater is not getting enough water, your control panel will alert you immediately.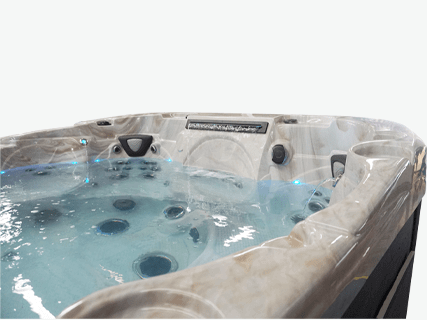 Raised Curve Back - Wind Protection and Privacy Wall
The raised back of our Curve and Cascade models shelter you from the wind as well as provide a private area in your Spa. The raised back also allows proper placement of our 24" inch waterfall so the water will cascade over your shoulders like a warm blanket.
Self-Cleaning Sweeper Jet™
When you step into your Spa, any particles that are insoluble in water that are brought in with you (such as sand) will settle at the bottom of your Spa if uncaught by the filter. In all other Hot Tubs, once these particles have settled onto the bottom of the Spa you will have to share your Spa with them until either you drain and clean the Hot Tub, or purchase equipment that will pick them up. Unfortunately, sharing your Spa with these little particles means that you will have to endure an undesirable gritty texture when stepping in your Hot Tub and Spa vacuums are not always the cheapest accessories to purchase. Coast Spas saves you all the trouble and money with the Self-Cleaning Sweeper Jet. The Sweeper Jet is positioned near the spa floor with its fan-like nozzle aimed downwards and is automatically activated on daily filtration cycles. The sweeper jet blows all the particles resting on the floor of your Spa up and into the moving water to then enter the filtration system.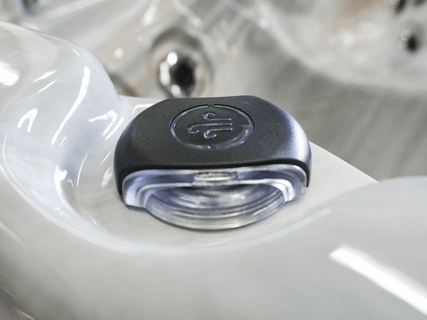 Air Controls
Allow air to mix with the water being supplied to your massage jets. Rotate the controls to customize the amount of air introduced into the spa jets. The result is a customized massage hydrotherapy experience.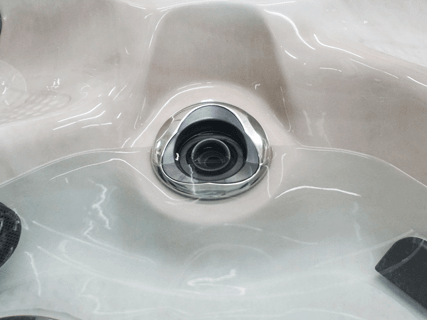 Volcano Jet with Dedicated Hand Control
Extremely powerful and therapeutic. The Coast Spas Volcano Jet is installed near the bottom of the Spa and points upward to the surface. This jet is so powerful that it comes standard with its very own diverter valve so that power can be diverted to adjust the intensity. When activated the Volcano Jet launches huge volumes of water toward the surface creating a "volcanic zone" of infinite massaging possibilities. Feet, legs, arms, calves and really any part of your body can enter this zone of hydrotherapy to be massaged. Extremely powerful and versatile, this feature is a must-have for anyone looking to capitalize on their Hot Tubs therapeutic benefits.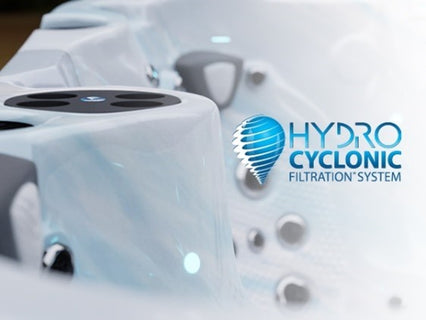 Hydro Cyclonic Filtration System® - 175 sq ft Dual Core Filter
This system comes with the largest filter available in any Hot Tub. Coast Spas has the only Spas that can accept a 175 sq.ft. filter. In North America it is law for any commercial establishment to have a closed pressurized filtration system on any public pool or Hot Tub. Not only is it more efficient and faster than a skim filtration system but it also removes the dirty filter canisters from the bathing area. Without a pressurized system, once the water flow to the filter subsides, the debris that was caught in the filter is free to float back into the spa and re-contaminate the water. We like this idea about as much as sitting in the water with the dirty filters. So Coast Spas developed the Hydro Cyclonic Filtration System®. This is a commercial-grade, pressurized filtration system with the filter canister completely removed from the bathing area and coupled with an oversized skimmer.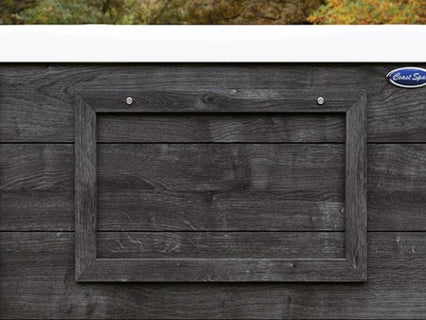 Quick-Access Equipment Door
Dual locks provide security to your spa's equipment. Coupled with an easy access entry door, you can access your equipment without having to remove screws or side panels making servicing and inspection a breeze.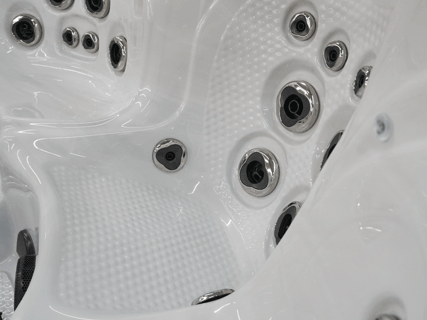 Shiatsu Massage Nodules
These tiny massage nodules are formed right into your spas acrylic allowing for water to move between your skin and the acrylic surface. The size and spacing of these ingenious nodules create a unique hydrotherapy experience that is more like resting on a cloud as our massage jets melt away the tension in your muscles.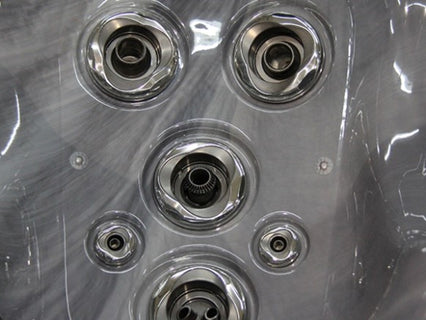 Extreme® Power'sage Zone
Two powerful deep tissue jets where you need them most, targeting areas where we most commonly feel tension.
Coast Spas Standard Features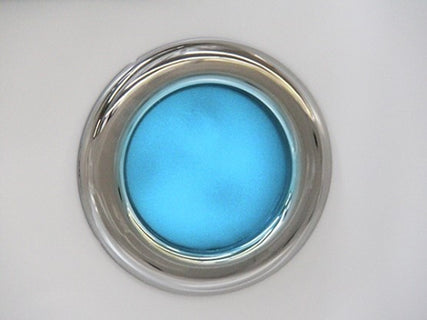 MultiColor 7" Stainless Steel Frosted Light Dome
Long lasting, bright and energy efficient. Features a stainless steel ring that wraps around a large frosted glass dome.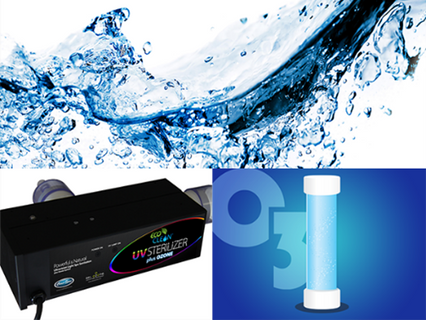 O3One Ozone + EcoClean UV + Crystal Clear Purification Chamber®
O3 One Advanced Plasma Discharge Ozone plus Ecoclean™ UV Sterilizer which uses ultraviolet light that is calibrated to a specific light spectrum to effectively eradicate 99.9 percent of all bacteria that is exposed to it. UV sterilization systems have long been used for purifying drinking water and now it's sterilization prowess can be used to effectively purify your Spa water. Includes Crystal Clear Purification Chamber®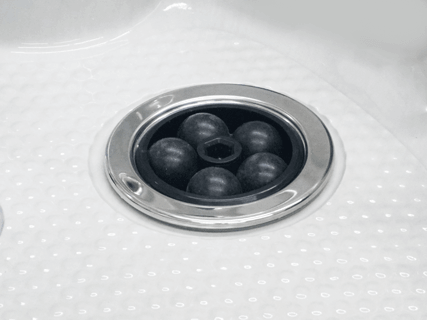 AquaSole™ Foot Massage Jet (x2)
The AquaSole Massage jets are two large "foot massage" jets in the footwell or in the floor of many of our models that provide gentle and rhythmic massage from the top of your toes, through the arch and to the bottom of your heals. Simply press your feet against these jets and let the gentle swirling water action work all the areas of you feet. Move on to the powerful high flow Volcano Jet and the powerful water stream that it provides by simply moving your feet over and you will get a totally different massage. These two very different jets and hydrotherapy pattern work together as an integrated system> Work them back and forth and in minutes your tired and sore feet will be rejuvenated. All jets are adjustable and the jets themselves as well as by our easy-to-use water diversion controller so that you can set and get the perfect massage for your feet.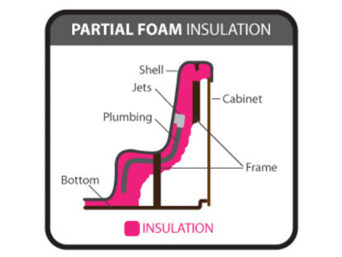 Foam Core Insulation
Add additional Foam to insulate your Hot Tub and conserve energy usage. This foam package partically fills the space between the inside of the cabinet to the inside wall of the spa acrylic. For the ultimate insulation choose the Full Foam insulation option.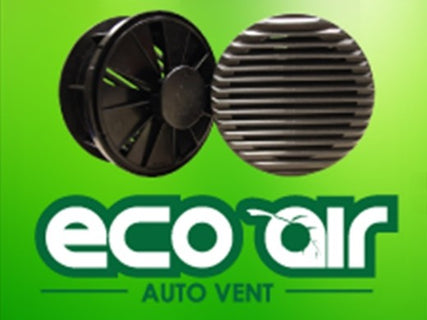 EcoAir Vents
This innovative feature protects your Spa from freezing and overheating by automatically opening and closing to control the temperature within the equipment area. EcoAir vents require no direct power and feature an attractive louvered grill to discourage rodents. Easily installed and mechanically simple, this feature offers huge value and protection to your Spa for a very low price. Not Available on Slate Cabinets.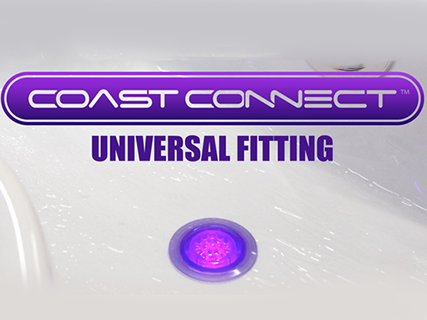 Coast Connect™ Universal Fitting
Connection that is installed in the floor of your Spa. The Coast Connect Universal Fitting allows you to connect and disconnect Coast Connect Accessories. When not in use, the Coast Connect Universal Fitting serves as both an underwater light (when a lighting package is installed) and a unique water-only foot massage jet. The Coast Connect Universal Fitting comes installed with a dedicated on/off valve that allows you to control the amount of water flowing from the fitting. The integrated light changes color in sync with the rest of the Spas interior lights (when lighting package is installed). To attach a Coast Connect Accessory, such as the Coast Connect Lit Waterfall Table, simply place the male and female attachments together and twist clockwise.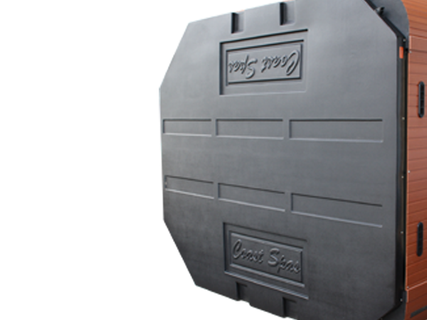 Coast Guard Bottom
Spas with the Coast Guard Bottom have a nearly indestructible base that offers the very best protection against moisture penetration. Moisture penetration can have adverse affects on the the structural and electrical components of your Hot Tub. The Coast Guard Bottom is one piece of thick synthetic material that has been vacuum formed specifically fit your Hot Tub model. In addition to offering protection from moisture, the Coast Guard Bottom also provides a shield from rodents and insects.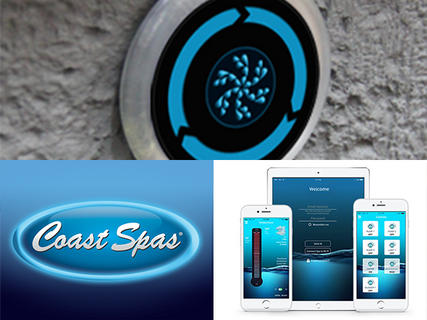 Coast Status + ControlMySpa + Refresh Button
Coast Status + ControlMySpa + Refresh Button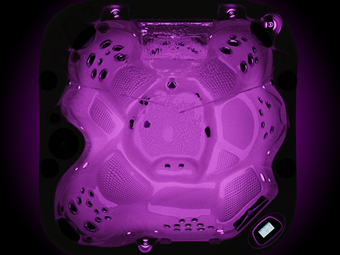 Waterline Max Lighting Package
Lit waterline, topside, air & water controls with lit water features. Twelve vibrant points of light positioned just under the waterline. Topside controls, water features and air and water controls are also lit with multicolor customizable lights.
Coast Spas Comforts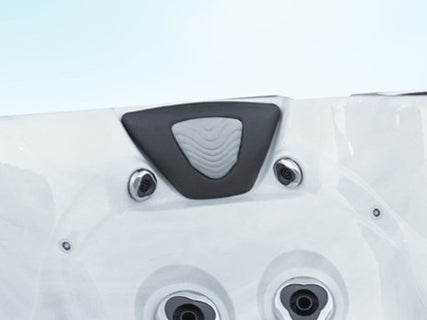 Plush Headrests
Our luxurious headrests allow you to enjoy the ultimate in comfort while in your Coast Spa. Cradling your head allows you to release the tension from your neck maximizing the benefit of your hydrotherapy.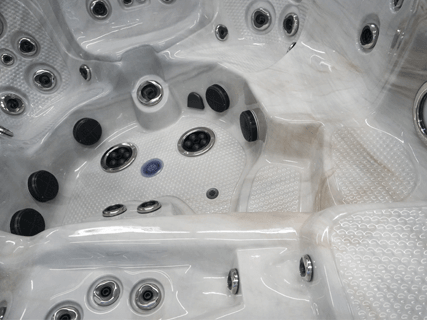 Anti-Slip Textured Floor
Allows for ease of entrance and exit and provides secure freedom of movement while in your Spa.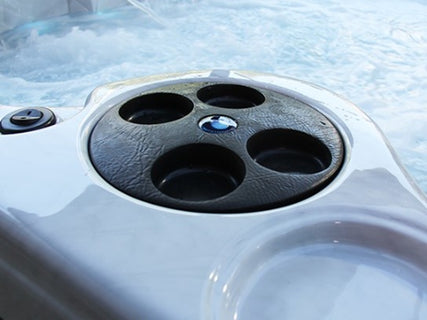 Beverage Holders
With a multiple cup holder integrated into your Hot Tub, you never need to be too far away from your beverage.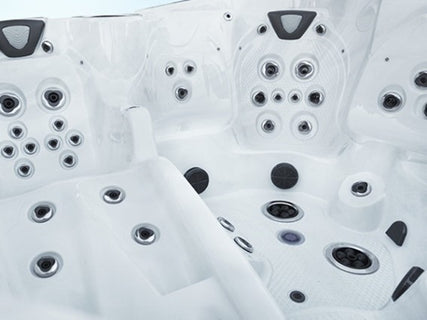 Multi-Level Seating
Allows for people of all heights to find a comfortable spot in the Spa. Raised seating is ideal to be used as a "cool down seat" by elevating your heart out of the water you're able to cool down quickly and enjoy more time in our Spa.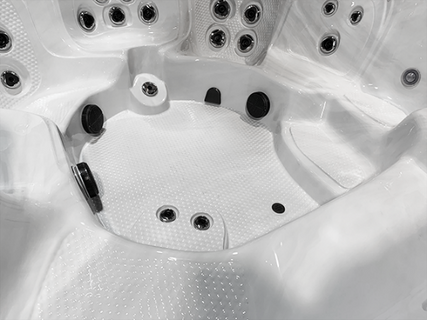 Large Footwells
Large deep footwells providing extra space. This feature is only found in high-end hot tubs.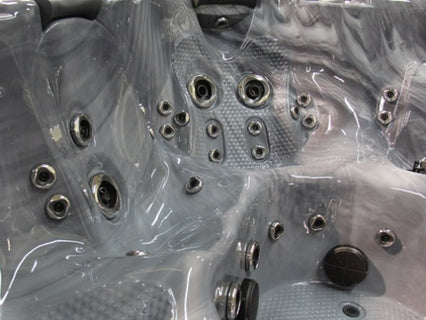 Ergonomic Seating
Using the latest in research and development all seating is designed to cradle your body and allow for the optimal jet placement.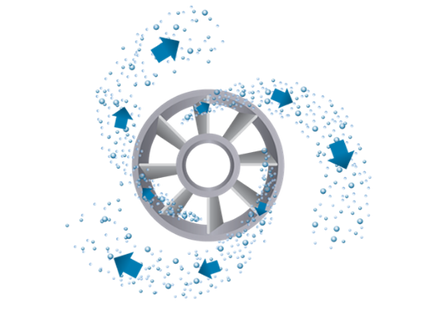 Programmable Filtration
Instead of using a dedicated pump for filtration that runs 24 hours per day 365 days a year, these jet pumps filter the Spa water at user defined intervals using the power of full sized jet motors to quickly filter the Spa in a mere fraction of the time that it would take a small circulation pump to do the same job. At the end of the day, this filtration method uses less power to do a superior job of filtering the Hot Tub. Programmable filtration also allows you to have your Spa filtering when you wish, the Spa does not need to run while you are sleeping or entertaining.
Hydrotherapy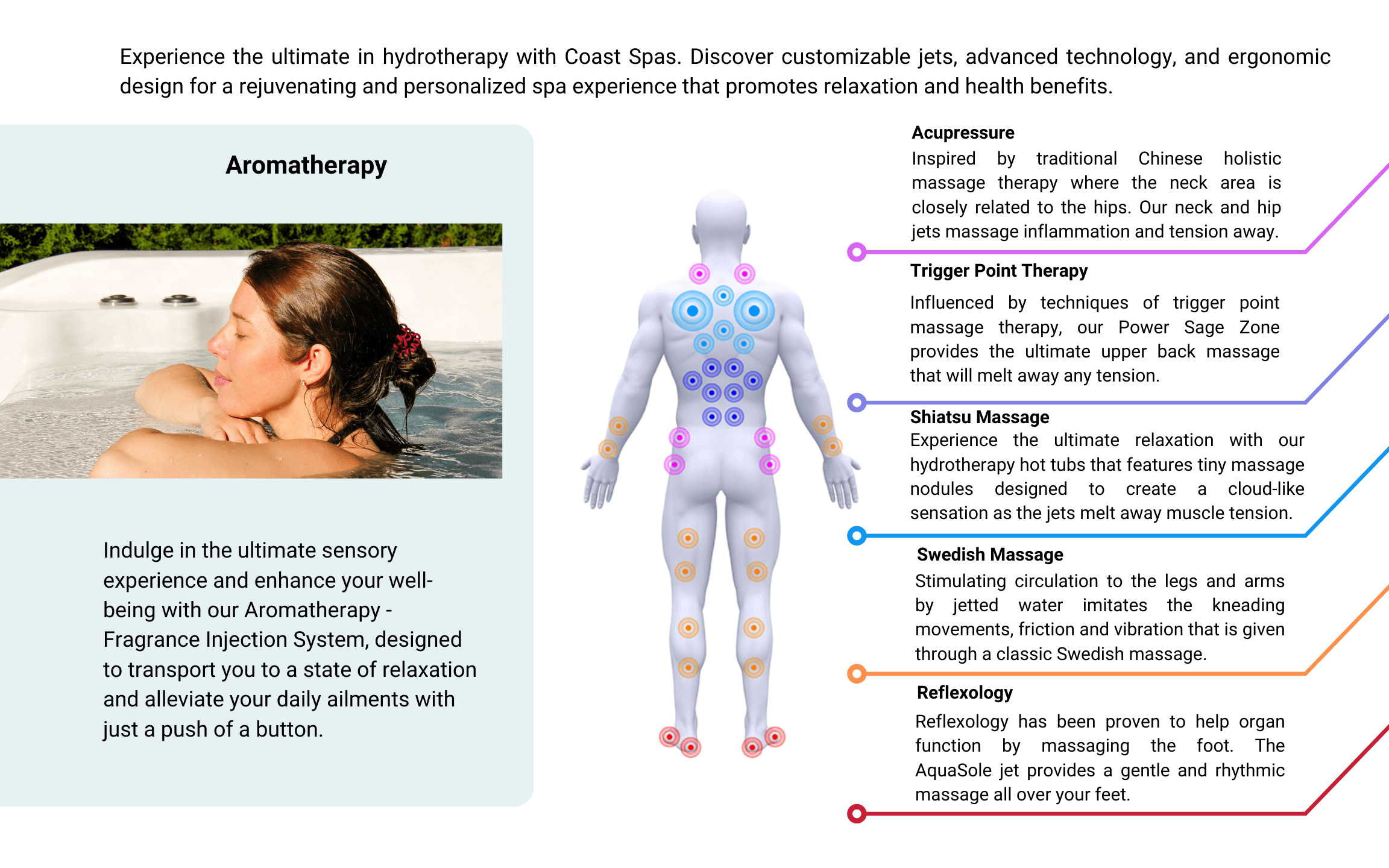 Coast Spas Separate Filtration System
Coast Spas is proud to offer the world's leading and exclusive Hydro-cyclonic filtration system, a revolutionary technology that is an integrated system that sets the standard for hot tub filtration. Our innovative filtration system works by creating a powerful whirlpool effect that circulates and traps debris, dirt, and other contaminants, leaving your hot tub water crystal clear and sparkling clean. This not only provides an exceptional hot tub experience for you and your guests, but it also helps to save on maintenance and upkeep costs by reducing the need for frequent cleaning and chemical treatments. In addition, our cyclonic filtration system is designed to be low-maintenance, with easy-to-remove filters that can be quickly and easily cleaned or replaced as needed.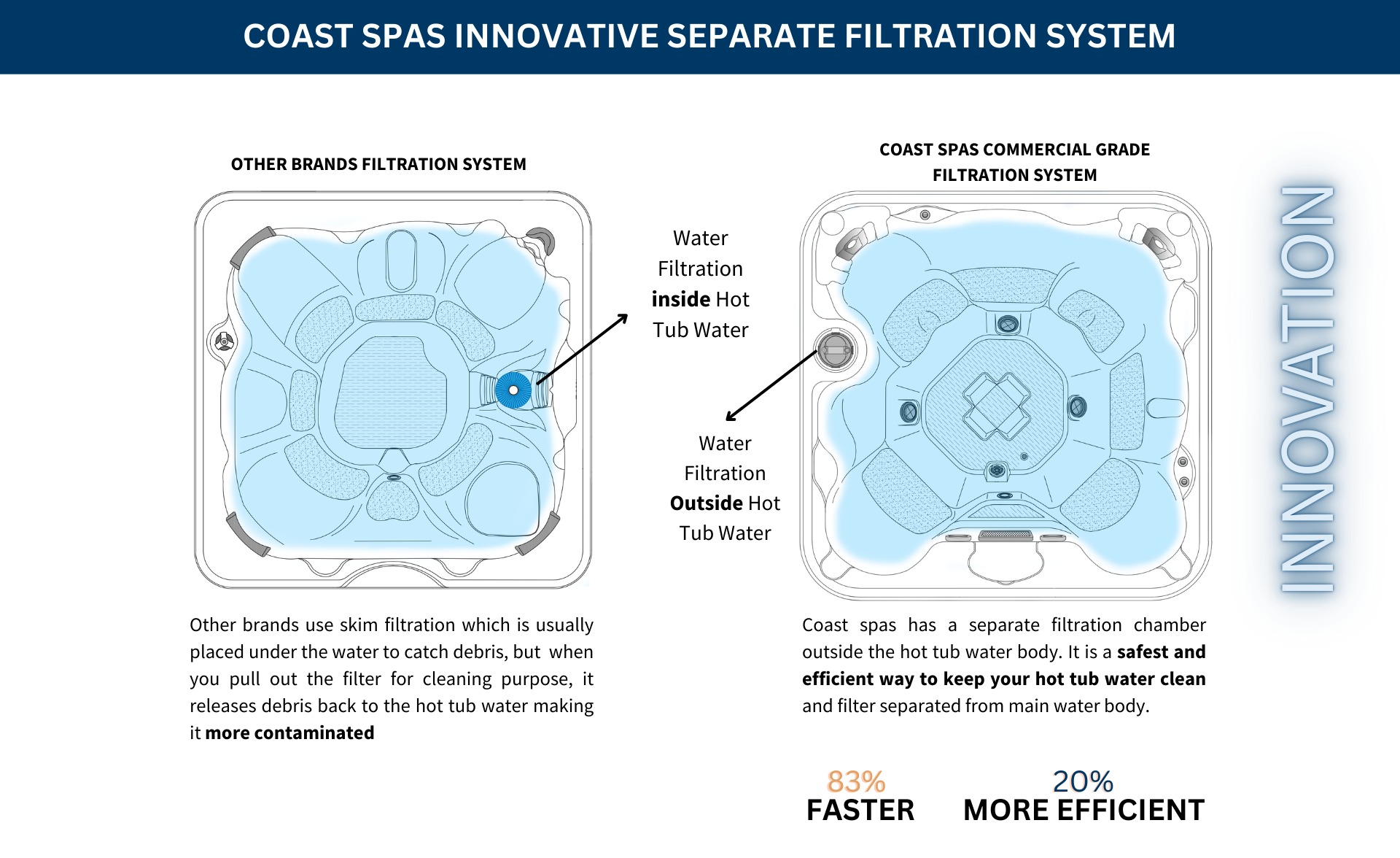 Filters

Skimmer & Swipper Jet

Hydro Cyclonic or Pressurized System

Ultrazone and Eco Clean UV
Model Specs
Seating Capacity
7 Seats
Pump Power (hp)
13HP/ 19 BHP (5HP + 2x 4HP Pumps)
Dimensions (cm/in)
234 x 234 x 101.5 (119.5 back) cm / 92" x 92" x 40" (47" back)
Jets
Standard 65 up to 145 Custom Jets
Filled Weight (kg/lbs)
2224 kg / 4903 lbs
Dry Weight (kg/lbs)
672 kg / 1482 lbs
Water Capacity (L/gal)
1552 L / 410 gal
Electrical (V)
220
Cover Specs
Material
Weather-shield Fabric Cover
Dimensions (cm/in)
234 x 234 cm / 92" x 92"
Slope
5" > 3" Taper
Foam Density
2 lbs/cubic feet
R Factor
Up to R18 insulation rating
Certifications
Society for Testing & Materials Standard (ASTM) Certified